Digital Nation for small island states & functioning govts in diaspora, Tuvalu Communication Minister
January 20, 2023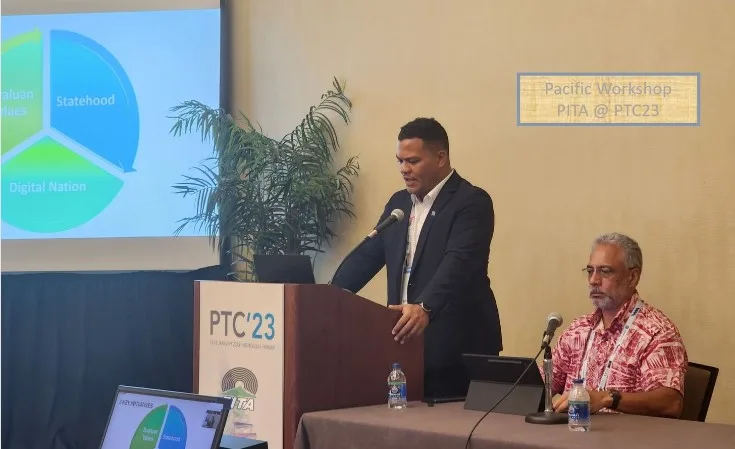 "The ability to connect everyone through digital platforms, including a functioning government, and its population in their daily social and economic activities is crucial for Tuvalu", says Hon. Simon Kofe, the Miniter of Communications of Tuvalu while presenting a keynote address to the Pacific Islands Workshop held in Honolulu. The workshop held on 15 January 2023 was one of the sessions under the PTC 23 overall program and was particularly organised by PITA.
The Minister stressed the need for continuity of the Tuvaluan Values, Statehood and Nation into the future as it faces greatest impact of the rising oceans and more migrations into diaspora due to climate change. Rather to be seen as climate refugees, the Minister shared their national vision for "the Future is Now" and the three key initiatives for their continuity as a People, Statehood and Nation.
The Hon Minister emphasised the role of new enabling technologies as they search for solutions and support.
The PITA Vice President, Mr Phillip Henderson from the Cook Islands, chairing the session shared the grave concerns for the future of the small islands with the rising oceans and climate change, congratulating Tuvalu for their leadership and the need to advocate widely the support for more meaningful connectivity for the Pacific small island nations, many of which are already having increased population in diaspora.
The session also heard from other speakers that included topics on financial reforms with the enabling ICT, mobile landscape for the integral and increasing role in the daily digital livelihood and lifestyle, and policy enablers that can support a vibrant digital future for the Pacific Islands. More on this workshop